Like anything else, if you want good oatmeal cookies, you're going to have to make them yourself. Maybe I'm jaded because my mother used to make these oatmeal cookies for me and I've been eating them for 50 years and anything else pales by comparison. Watch carefully your bake times. You can fine tune your cookie's chewiness versus the amount of crunch by varying the bake time. Pay close attention to the notes in the recipe about for how long the cookies are in the oven. Also, if you don't have a convection oven, that is an oven with a fan, you should bake these one sheet at a time. Otherwise, the results will be uneven.
You can step up your game when you make these with a few simple modifications. If you're taking the time to make your own oatmeal cookies–make them really good!
Use Craisins, the dried cranberries that look like bright red raisins. Raisins are so 1950's!
Add 1/2 cup of chopped raw almonds.
Use a disher to measure out your cookie dough onto the pans. I use a #16. If you don't know, the disher number comes from how many scoops it would make from a quart. So, using a #16 on a quart of dough, you would get 16 scoops of dough, 2 oz each. Cool, huh?
Cover your pans with Silpats. Silpats are sheets of silicon, reinforced with fiberglass so they keep their shape. Look for Silpats that match the size of the baking sheets you like to use.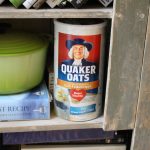 Print Recipe
Quaker's Best Oatmeal Cookies
These are the original oatmeal cookie from the company that provides the oats.
Ingredients
1-1/4

Cup

butter

softened

3/4

Cup

brown sugar

firmly packed

1/2

Cup

granulated sugar

1

Egg

1

Teaspoon

vanilla

1 1/2

Cup

all-purpose flour

1

Teaspoon

Baking Soda

1

Teaspoon

ground cinnamon

1/2

Teaspoon

salt

1/4

Teaspoon

ground nutmeg

1

cup

raisins

3

Cup

Quaker® Oats

uncooked
Instructions
Heat oven to 375°F. In large bowl, beat together butter and sugars until creamy. Add egg and vanilla; beat until thoroughly combined.

Add flour, baking soda, cinnamon, salt and nutmeg. Mix well.

Mix in oats.

Drop dough by large spoonfuls onto ungreased cookie sheets.

Bake 8 to 9 minutes for a chewy cookie or 10 to 11 minutes for a crisp cookie.

Cool 1 minute on cookie sheets; remove to wire rack. Cool completely. Store tightly covered.