First, an update on the whole30 diet
Nina and I were going like gangbusters on the first half of the whole30. We found and made lots of interesting meals. We taught our daughter how to cook so she could continue on the whole30 on her own. The plan was that the 3 of us would start together on the whole30, figure it out and then Stephanie could go out in to the World on her own and continue her new diet plan. We started making sweet potato hash with sautéed kale and fried eggs for breakfast. Sometimes we'd even make Fauxtmeal (mashed bananas and eggs with cinnamon and sliced apples). I was making and taking my own homemade pork breakfast sausage to work to eat.
Fauxtmeal
completely whole30 compliant
Ingredients
Ingredients

1

ripe medium banana

2

eggs

1/4

green apple

sliced

1-2

Tablespoons

almond butter

1-2

Tablespoons

dried coconut flakes

1

Teaspoon

cinnamon

Coconut oil

for cooking
Instructions
Using a fork, mash together the ripe banana and with the eggs in a small bowl. The batter will be lumpy.

Add 1 tablespoon of coconut oil to a frying and turn stove to medium. Add the batter and with a spatula, continue to mash and stir the mixture while cooking.

When the egg starts to dry a bit, remove from skillet and place into a bowl. Top with apple slices, almond butter, coconut flakes, and cinnamon.
Lunch was great. Lots of veggies and a couple of chicken sausage – or maybe a big salad with fermented veg and some sliced steak from last night. I'm still enjoying the ratatouille with chicken sausage.  Another recommendation while on whole30 is eating lots of fermented foods.  Of course, if you subscribe to my YouTube Channel, you KNOW how much food we ferment and eat in this house.  So, with "It Starts with Food" singing the praises of incorporating lots of fermented foods into your diet, you could bet that I was ALL IN!
Supper was a whole thing! Two or three different complicated recipes: a protein with a fancy-schmancy sauce. Roasted Vegetables with a light fruit salsa. Eggplant sautéed in coconut oil and tomato reduction. My oldest daughter and HER husband joined in on the whole30. We would take turns cooking supper and eating at each other's houses, trying to out-do the last meal with bigger and more delicious entrees. Stephanie learned to cook. She was cooking at least two dishes for each meal using her new-found kitchen skills. Peeling, frying, sauteing — even got so she could pan toss a skillet full of eggplant with just a flick of her thin wrist — without spilling any on the stove top.
So, after 10 days, Steph went home and kept cooking. That was probably the best part–Stephanie is finally cooking; and was excited about it, too. She would text us pictures of the things she was making and bragging about her new knife skills and flavor combinations. So, she had a right to be proud, she had really come a long way from just "grabbing something on the way home from work".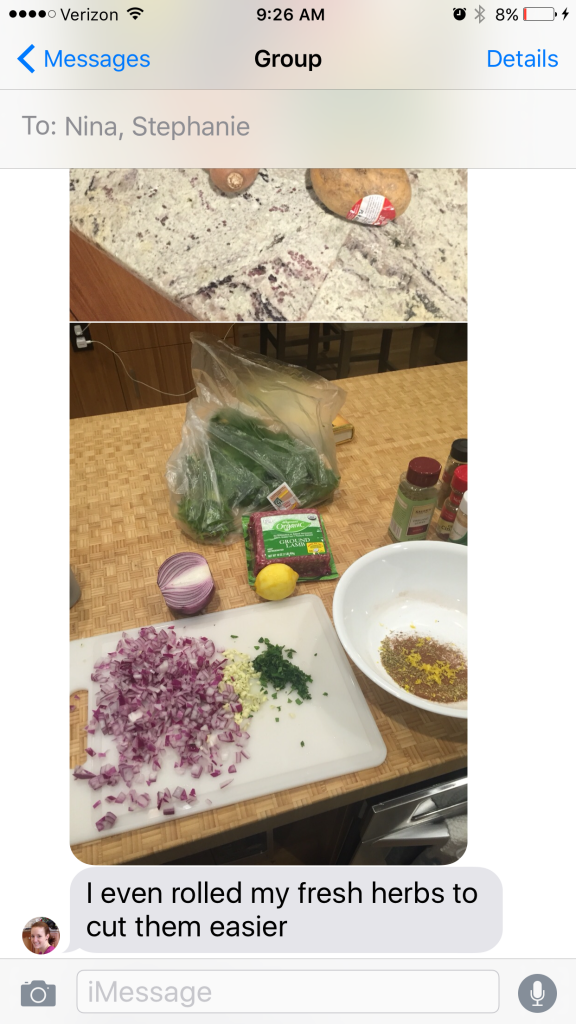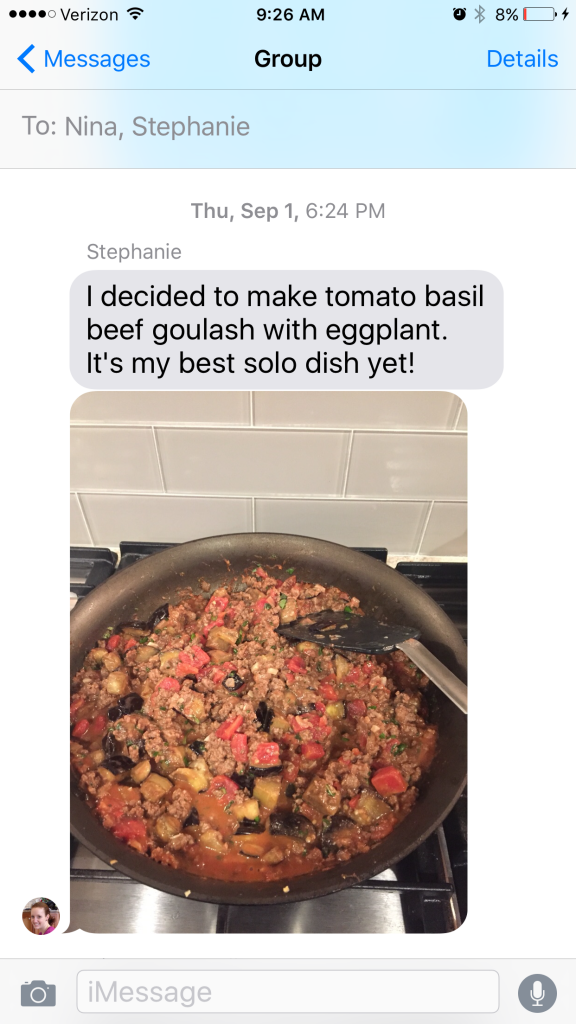 Feeling full – Satiety
The books were right! We could cut out all grains and sugars and replace them with fats. We could make and eat delicious meals and feel satiated and full when we were done eating. Although we weren't filling up our plates with piles of rice and pasta, we still had a lot of great meals and didn't feel the need to snack between meals. The increased number of fats used the prep of the dishes really helped to fill out the meals and fill us up. Because our tummies weren't full of simple carbohydrates, our bodies were learning to take advantage of the healthy fats. As time went on, we could feel the difference of how our bodies were able to take advantage of the calories from the fats and maintain an even energy level throughout the days.
Ah, Healthy Living!
And we felt great about ourselves–all this healthy living and trying out new recipes was really fun. Another thing we learned was about reading labels. Never mind the whole grain, low fat claims on the front of the package. We were looking for sugar and carageenan, and other unpronounceable ingredients which were unwelcome in our new diet. Now I was a no novice at reading labels, but now I was reading EVERY label. It's really amazing the amount of crap that is added to our food supply. Between the preservatives to make the food shelf-stable for years and the enrichments that are added because all the original nutrition is stripped out during processing–it's really quite mind-boggling. But we endevoured to have successful shopping trips and explore new ingredients.
Then we'd sit down and read recipes on the Internet and in NOM NOM Paleo, finding all sorts of things to try for lunch and dinner. We really ate up every word of the whole30 books and drooled over the recipes offered. We'd make meal plans for days in advance to get all of the vegetables that we had bought incorporated into our meals over the next few days. We'd figure in the extra kale, and the coconut oil and the couple of extra eggs on those meals that needed a protein boost to stay compliant. We'd figure out how much to make so we'd have enough leftovers of the stuff we wanted for the next day's lunch. We'd find something that we couldn't wait for and would make it immediately for the next meal.  Emboldened by our newfound success, we'd clean up and start planning and prepping for the next meal.
And then, the Bottom Fell Out
We soon realized that we were spending nearly every waking moment, thinking about food. My father-in-law put it best, "Seems like whenever someone's on a diet, all they talk about is their new diet." Sure, Pop can be more snarky than I, but he did note an interesting observation. Whether it was what we were eating, how we were eating it, where we were buying it and then what we were going to make for the next meal. It can't be healthy to spend that much time, thinking and talking about eating. It was exhausting.  Now, mind you, we rarely go out to eat. We like cooking and generally enjoy hosting dinner parties and cooking for friends. We cook every meal, anyways. But something was different. Suddenly, on whole30, we had to think really hard about how to get to our next meal. Meal Planning used to be effortless-defrost a piece of meat, throw together a side or two from some recipe I had seen in Fine Cooking a week ago.  But now, on whole30, I felt like a novice. Suddenly, there were too many rules, too many exclusions of now foods that were "potentially" dangerous to my well-being.  So, I fell into new routines.  But they we're just that, routines.  Instead of trying new recipes, I was eating a lot of sweet potato hash and sauteed kale.
The Sleep Disruptions
Then I started waking up a 4am. Now, grant you, I usually wake up at 5:30 so I can beat Washington, DC traffic and be home in plenty of time to cook supper. For some reason, the new 'tigerblood' in me was awake and ready to go at 4am. I wasn't going to bed any earlier. I was waking up occasionally in the night to pee, but that's part of being 50 and I can always go right back to sleep. This 4am thing was new.  And after having woken up at 4am, I really couldn't stay up very late at night, so I could see how this might become a vicious circle.
So, that's my reward for all this meal planning and obsessive label-reading and meal planning? I'm wide awake at 4am? Great.
Where's the renewed health? The vim & vigor of an improved diet? The end to lower back pain and psoriasis? OK. I lost 8 pounds and a pants size, but now my wedding ring falls off when I dry my hands. hmmm. Not impressed.  AND not the point of the whole30.  whole30 is not a weight loss program, it's a chance to purge your system and then see what foods are reeking havoc on your digestive system-and therefore, your whole being.  The regimented meals with low carbs and high fats were quite effective in keeping me on plan and not feeling hungry or like I was needing a snack.  However, I don't think I ever really hit my stride as I was pretty much dragging by the end of the day.  I can see why people would refer to this mood as "h-angry".
The Reintroduction Phase
I got nothing. My 30 days were over and I still felt the same as when I started. On the whole30 diet, once the 30 days are up, you can slowly reintroduce the restricted food that you missed the most back into your daily diet. If the food you're reintroducing causes you issues or some of your symptoms come back then you should really consider not eating that food anymore. In my case, I didn't feel any different than when I got on this crazy ride. If anything, I wanted to go back to sleeping through the night and not working so hard to put a meal on the table.
Where We Went Wrong
We were already healthy! We were already eating a healthy, well-balanced diet. At the market, we were reading labels and at home, preparing our own food. I know better than to go up-and-down the aisles at the grocery store and just shop the perimeter. We don't drink soda and already drink a lot of water. We don't drink milk (other than a tablespoon in coffee). On Sundays, we go to the farmer's market load-up on fresh fruits and vegetables for the week ahead. Other than an occasional slice of cake, we don't eat a lot of processed sugar. Well, other than the homemade bread. (mmmm, fresh sandwich loaf rye bread) But, we recognize that as a treat and don't woof down entire loaves at a time. So, the whole30 wasn't a radical paradigm shift in our food consumption.
If anything, it was an inconvenience. Suddenly, I had to watch every ingredient. I had to plan meals with a lot of substitute ingredients that I wasn't used to using. In retrospect, if I had been gettin' me some McPick2 at Mickey-D's, I think I would have really felt the good in all of this. But, for us, to go from a healthy, well-balanced diet to the whole30 diet didn't buy us much.
Lessons Learned from eating whole30
It did let me see the world of food preparation from the eyes of my daughter, to whom cooking had always been a challenge. It did make me appreciate little ingredients that I reach for, of which I should probably use a little less. Sure, I'm back to using sugar in my pickled eggs and black beans in my quinoa salad and I think I can start sleeping better because I know that my daughter can make herself a decent plate when she's in need of a home-cooked meal.  And I can have Quinoa again!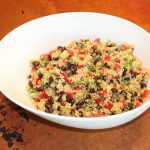 Print Recipe
Black Bean & Quinoa Salad
Ingredients
2

cups

cooked quinoa

1/4

cup

extra virgin olive oil

1

teaspoon

ground cumin

3

clove

garlic

finely chopped

1

tablespoon

lime juice

1

teaspoon

fine sea salt

1/4

teaspoon

Aleppo pepper

ground

1

can

black beans

rinsed, drained well

1

cup

red bell pepper

quarter inch chopped

6

green onions

root removed, chopped

1/2

cup

cilantro

chopped
Instructions
Prepare the quinoa. While the quinoa is cooking, whisk the olive oil, cumin, garlic, lime, salt and Aleppo pepper together in the bottom of a large bowl to let the flavors marry while you chop the veggies.

Rinse and drain the black beans, then chop the veggies; the key is to make the peppers and onions about the same size as the beans. For the cilantro, chop the leaves and fine stems roughly. Chop the big stems finely and throw those in, too!

Add the cooked quinoa, beans and veggies to the bowl and gently fold it all together with the dressing. The quinoa can be warm, room temp, or cold when you make the dish. Regardless, I suggest letting it sit at least 30 minutes to let the flavors come together.