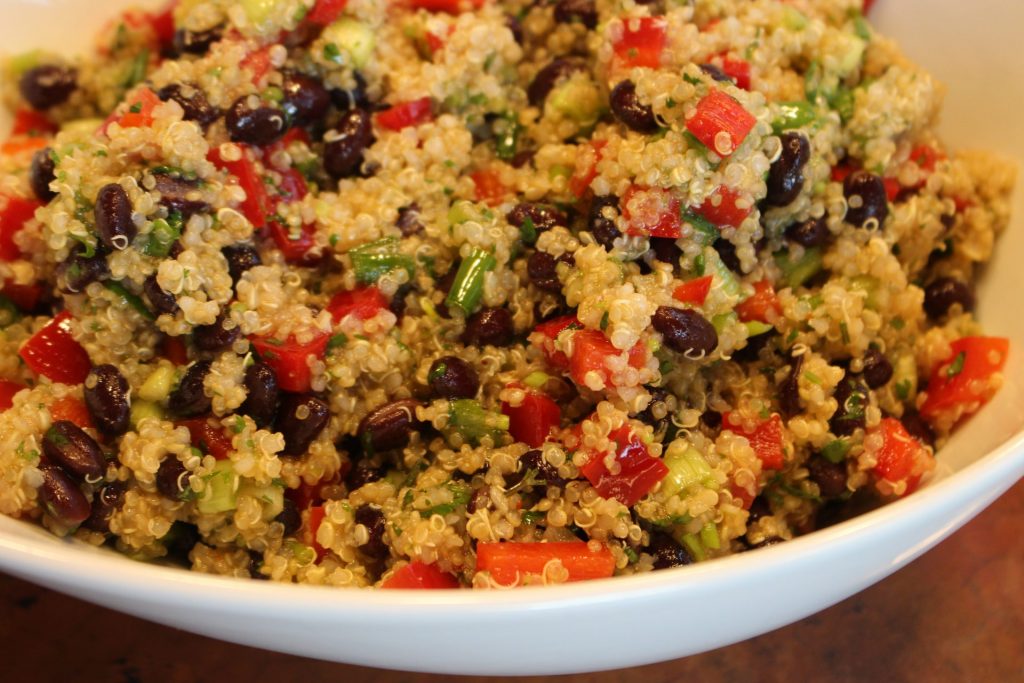 This is a nice, grain-free side to go with your Tex-Mex meal or really whatever. Pairs nicely with a grilled salmon filet or a rib-eye. You can decide what you want to serve it with–just make sure you serve it!
Get the staples from Amazon and add some fresh vegetables!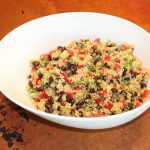 Print Recipe
Black Bean & Quinoa Salad
Ingredients
2

cups

cooked quinoa

1/4

cup

extra virgin olive oil

1

teaspoon

ground cumin

3

clove

garlic

finely chopped

1

tablespoon

lime juice

1

teaspoon

fine sea salt

1/4

teaspoon

Aleppo pepper

ground

1

can

black beans

rinsed, drained well

1

cup

red bell pepper

quarter inch chopped

6

green onions

root removed, chopped

1/2

cup

cilantro

chopped
Instructions
Prepare the quinoa. While the quinoa is cooking, whisk the olive oil, cumin, garlic, lime, salt and Aleppo pepper together in the bottom of a large bowl to let the flavors marry while you chop the veggies.

Rinse and drain the black beans, then chop the veggies; the key is to make the peppers and onions about the same size as the beans. For the cilantro, chop the leaves and fine stems roughly. Chop the big stems finely and throw those in, too!

Add the cooked quinoa, beans and veggies to the bowl and gently fold it all together with the dressing. The quinoa can be warm, room temp, or cold when you make the dish. Regardless, I suggest letting it sit at least 30 minutes to let the flavors come together.