Herbes de Provence [ɛʁb.də.pʁɔ.vɑ̃s] is a mixture of dried herbs that typically grow in the Provence region of southeast France. Herbes de Provence are used to flavor grilled foods such as fish and meat, as well as vegetable stews. The mixture can be added to foods before or during cooking or mixed with cooking oil prior to cooking so as to infuse the flavor into the cooked food. They should not be added after cooking is complete, because they need to completely rehydrate and release their wonderful essences to be completely experienced and enjoyed.
You can buy a bag at the Gourmet Food store and spend a fortune on some herbs that are probably out of date and stale. I was super excited to get a bag as a nice gift but was disappointed to find that the main ingredient was salt… ugh! I'm making my own!!
I like to buy my herbs and spices in bulk on Amazon. It's the same price as buying the little jars in the supermarket but you get about 20 times as much. Whip up a big batch and give away your own little high priced jars to all your friends! They'll love you for it. What a great gift idea! Check the links below the recipe card on this page.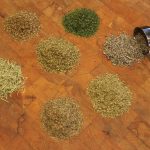 Print Recipe
Herbes de Provence
Herbes de Provence is lovely on eggs, grilled foods such as fish and meat, as well as vegetable stews.
Ingredients
1

part

chervil

1

part

marjoram

1

part

rosemary

1

part

lavender

1

part

summer savory

1

part

thyme

1

part

oregano
Instructions
Measure out equal parts of all the ingredient and mix thoroughly. Store in a pretty bottle away from sunlight and heat.