Cool Cucumber Soup Recipe
This is a cool, refreshing soup for a hot day.  Cucumber Soup is a Mediterranean favorite!   I've updated my recipe to be less spicy and more healthful.  A lot of other recipes call for olive oil, avocados, buttermilk, hot cayenne powder, etc.  With this recipe, I just want to bring out the cucumber flavor and have something healthy to drink.  If you don't have a Vitamix 5200 Series Blender to use, just finely mince your ingredients first.  It will be just as delicious and you can sharpen your knife skills.
Two English cucumbers or 3-4 regular cucumbers, seeded
3 cloves of garlic, minced
1 1/2 teaspoons kosher salt plus more to taste
2 small scallions, trimmed, chopped
2 cups yogurt
1 Tablespoon fresh mint, chopped
1 Tablespoon fresh dill, chopped
1 Tablespoons parsley, chopped
black pepper, to taste, freshly ground
Freshly squeezed lemon juice, optional, to taste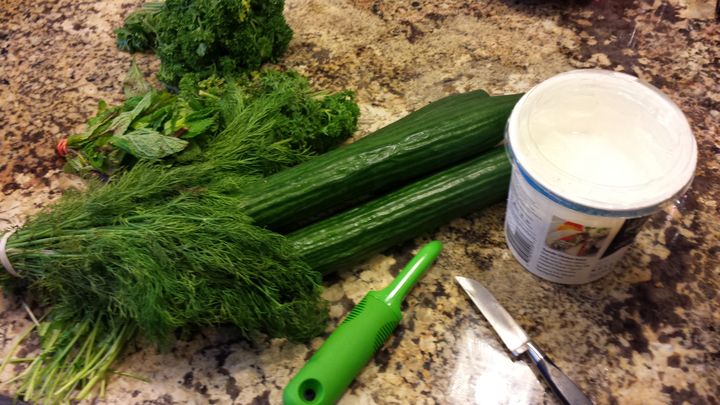 Prepare your mise en place: Peel the cucumbers and cut them in half. Wash the herbs. As a guide, you'll need about a handful of each to get the equivalent of a tablespoon, chopped. Crush and chop the garlic. If you add the whole garlic to the blender, it will be very spicy! We're going for cool.  Please pre-chop or use your OXO Garlic Press.  Measure out the salt.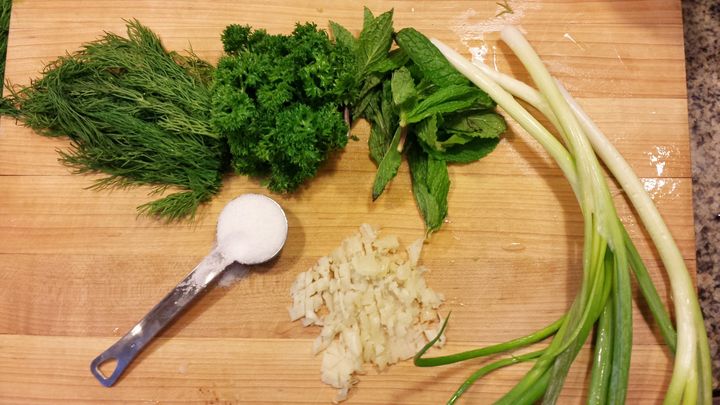 Blend one of the cucumbers. Put into a bowl. Blend the other cuke. Use this as a base to blend the other ingredients.  I use a Vitamix, so I don't have to pre-chop anything (except the garlic).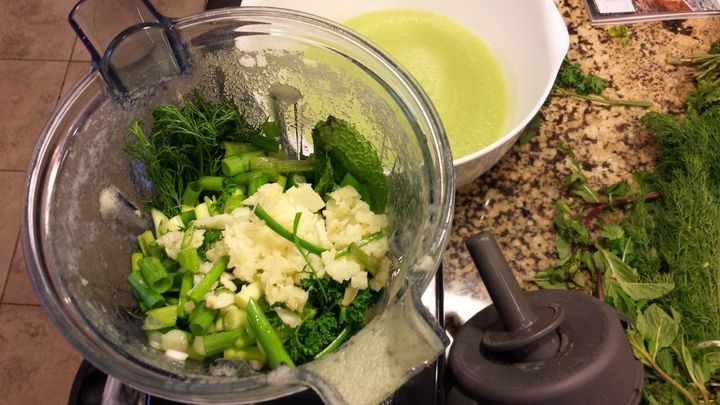 Once you've got everything pulverized, and there's no descernable bits of herb visible, add the yogurt. Give it a couple pulses on low speed. Don't destroy the protein structure of the yogurt, or you'll have really thin soup.
Pour together the blender pitcher contents with what's in the bowl and mix by hand. Store in a lidded container in the fridge to let the flavors bloom.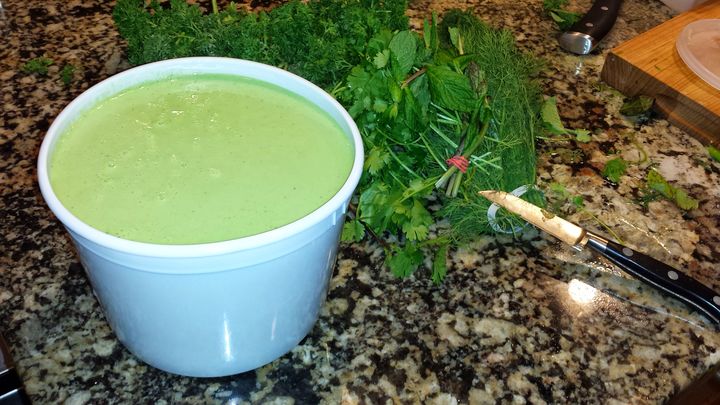 Serve this in bowls with a sprinkling of extra herbs or pour it into a large tumbler over a lot of ice! Who needs a red SOLO cup of beer? Relax in the shade with Cool Cucumber Soup!