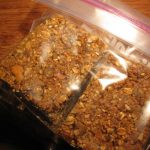 Print Recipe
Homemade Granola Bars
Ingredients
2 1/2

cups

rolled oats

1/2

cup

shredded coconut

1/2

cup

pepitas

1/4

cup

flax seeds

ground

1/4

cup

sesame seeds

1

cup

whole cashews

1/2

cup

water

1

teaspoon

cinnamon

1

teaspoon

sea salt

1

teaspoon

vanilla

1/4

cup

honey

1/4

cup

natural peanut butter

1/4

cup

brown sugar
Add later
1

cup

dried pineapple

chopped
Instructions
Preheat the oven to 325.

Combine the dry ingredients; spread out evenly on the rimmed baking sheet and toast for 15 minutes. Take the pan out once or twice to give the mixture a good toss, to make sure things are browning evenly.

Meanwhile, stir together the wet works in a saucepan over medium heat until the sugar melts. Once the oats are nicely toasted, stir together everything, adding the pineapple. Spread the mixture out on a sheet of parchment paper. Fold the edges over to meet on the top and roll this out to about 3/8″. Fold the end in to square up and refold and roll.

Bake the giant granola bar for 30 minutes. Remove the pan from the oven and let it cool completely on a wire rack. Once the bar is cool enough to handle, but still warm enough to avoid cracking, lift the granola sheet out of the pan and onto a cutting board. Using a pizza cutting wheel, cut the sheet into one-inch wide bars. Next, cut the series of bars in half, lengthwise.

Store in an airtight container.