Thanksgiving is fast approaching. We each have our favorite side dishes–dishes that we only get to make and eat on Thanksgiving and we look forward to them as we look forward to the first snowfall.  Sweet Potatoes topped with Candied Nuts (or marshmallows), Creamed Peas and Onions, STUFFING!  Watch the video!
However, there are some old standbys that could stand some updating in my opinion. Green Bean Casserole made with Crispy Onions out of a box and cream of mushroom "soup" out of a can makes me shudder. Canned green beans should be fed only to prisoners. Or maybe there's something in the Geneva Convention that would prohibit that. Canned green beans are just evil. Fresh green beans are so easy to find and prepare. There is no reason for anyone to have to even consider canned green beans. Then there's the glop of gray Campbell's Soup.  Not to mention the salt content.  Well, actually, I DO want to mention the salt content!
Here's the (OLD) recipe: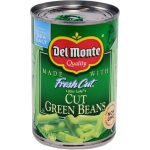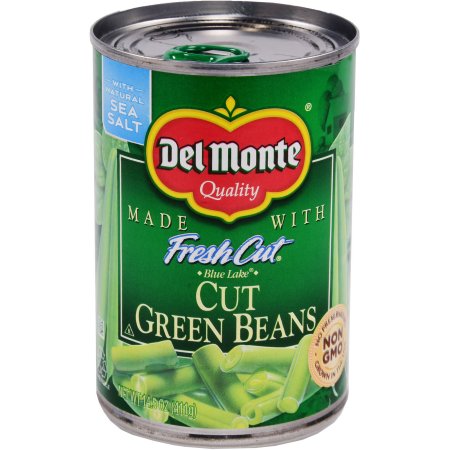 Print Recipe
FRENCH'S Green Bean Casserole
The quintessential casserole for the holidays. A creamy mushroom sauce surrounds tender green beans, topped with FRENCH'S Crispy Fried Onions.
Ingredients
1

can

10 1/2 oz. Campbell's® Condensed Cream of Mushroom Soup

3/4

cup

milk

1/8

tsp.

black pepper

4

cups

cooked cut green beans or 2 cans

14.5oz each any style Del Monte® Green Beans, drained

1 1/3

cups

FRENCH'S® Crispy Fried Onions
Instructions
MIX soup, milk and pepper in a 1 1/2 -qt. baking dish. Stir in beans and 2/3 cup Crispy Fried Onions.

BAKE at 350°F for 30 min. or until hot. Stir.

TOP with remaining 2/3 cup onions. Bake 5 min. until onions are golden.
Sodium Analysis:
Let's check the Nutritional Labels for each of the players in this iconic dish.

One can of Campbell's Condensed Cream of Mushroom Soup
makes five 1/2 cup servings. The Nutrition label states that each serving contains 870mg of sodium.  If I stir in the whole can, that's 4350mg of sodium in my grandmother's baking dish.
Del Monte Fresh Cut Blue Lake Cut Green Beans, 14.5 oz
The little white box mentions 3.5 servings of Sodium at 390 mg each in this green labelled can for a total contents of 1365mg of sodium.  But don't stop there.  Double it!  Bring on the gray beans!  I'll take two cans for a whopping 2730mg of sodium!
French's Crispy Onions
This is going to take a little figuring.  The recipe calls for 1-1/3 cups of onions. Here's the facts from the label:
FRENCH'S® ORIGINAL CRISPY FRIED ONIONS
Net Wt.: 6 oz (170g)
Serving size: 2 Tbsp (7g)
Servings: 24
Sodium 60mg
Sounds to me like you dump the whole box on top of your salt casserole == 24 x 60mg = 1440mg total
Adding up all of these ingredients, we're at 8520mg of sodium
Sodium chloride or table salt is approximately 40% sodium.  As a result, we're at exactly one tablespoon of salt for the dish!  or in "servings" that's 1300mg of sodium per serving!
But I've got a solution!  Buy the ingredients for your casserole in the produce section, not the canned food aisle.  The canned food aisle was great when our great grandfathers were fighting the war.  Today, I think, we can do much better in the produce department. Here's a new Green Bean Casserole recipe that's fresh and nutritious and won't send us into a coronary.  Thanksgiving should be full of good food and family, and not cause high blood pressure!
French Fried String Onions
French's Fried Onions are Better Done Yourself
Ingredients
1

Yellow Onion

2

cups

Milk

1 1/2

cups

All Purpose Flour

1

tsp

Paprika

2

tsp

Onion Powder

Salt and Pepper

to taste

Oil for frying
Instructions
Heat the oil to 375 degrees.

Cut the onion halfway through from root to top. Slice the onion horizontally to make (cut) rings. Separate the onion slices into a bowl. Cover with milk for about an hour.

In a large bowl, mix together the flour, paprika, onion powder, salt and pepper.

Lift the onions from the milk, shake off the excess and toss them in the flour. Add the add the onions to the hot oil, after shaking off most of the flour.

Fry in batches, stirring occasionally to separate. Once the onions are brown and crisp (2-4 minutes), remove them from the oil and drain. Repeat with all of the onions.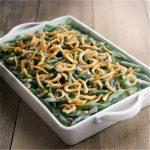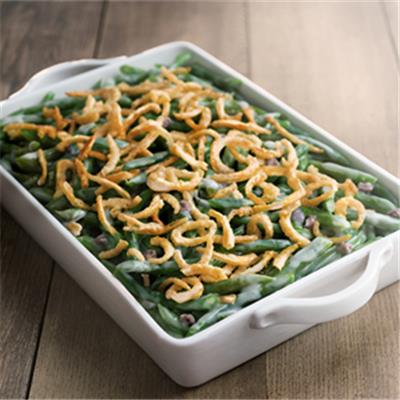 Print Recipe
Thanksgiving Green Bean Casserole
Traditional Green Bean Casserole is Better Done Yourself with fresh produce, not canned beans and mushroom "soup".
Ingredients
1

teaspoon

kosher salt

1

pound

fresh green beans

trimmed and cut into 2-inch pieces

2

tablespoons

butter

12

ounces

mushrooms

trimmed and cut into 1/2-inch pieces

1/2

teaspoon

black pepper

freshly ground

2

cloves

garlic

minced

1/4

teaspoon

nutmeg

freshly ground

2

tablespoons

all-purpose flour

1

cup

chicken broth

1

cup

half-and-half
Instructions
Preheat the oven to 350 degrees F.

Bring a gallon of water to a boil in an 8-quart saucepan. Add the beans and blanch until the beans are bright green, about 3 minutes. Drain in a colander and immediately dump beans into a large bowl of ice water to stop cooking. Return to colander and set aside.

Start a heavy frying pan on high heat. Add the mushrooms and 1 teaspoon salt, stirring occasionally, until the mushrooms begin to brown. Lower heat and add butter and lightly saute, briefly. Add the garlic and nutmeg and continue to cook for another 1 to 2 minutes. Sprinkle in the flour and stir. Cook flour for 1 minute. Slowly stir in the broth and simmer for 1 minute. Add the half-and-half. Cook until the mixture thickens, stirring occasionally, approximately 6 to 8 minutes.

Remove from the heat. Pour into ovenproof dish. Top with the onions. Place into the oven and bake until bubbly, approximately 25 minutes. Remove and serve immediately.
Photos courtesy of Reckitt Benckiser Group plc., Campbell Soup Company, and Del Monte Foods, Inc.