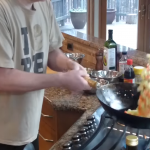 Print Recipe
Fried Rice
Ingredients
3

c

water

1-1/2

tsp

salt

1-1/2

c

long grain rice

1/2

lb

bacon

3

eggs

beaten

1/4

tsp

pepper

2

tbsp

oil

2

Garlic

crushed

2

tsp

Ginger root

grated

8

oz

pork

cut into thin strips

8

oz

cooked

cleaned shrimp

8

Green onions

finely chopped

2

tbsp

soy sauce
Instructions
One day before: Boil water in 3-quart saucepan. Add salt and rice. Cover and reduce heat. Simmer until tender about 20 minutes.

Cook bacon and remove from wok. Make 3 thin omelets by frying 1/3 of eggs at a time in drippings. Roll up and cut into thin strips. Adjust oil to about 2 T. Stir-fry ginger and garlic over medium-high heat 1 minute. Stir in rice. Cook and stir 5 minutes. Stir in remaining ingredients, cook and stir until hot throughout. Add soy sauce for a nice color and flavor.
Learn to make fried rice at home. It's much better than the crap they push off on you at a Chinese restaurant. Lots of fresh ingredients and a little bit of care will make a delicious dish, not someone else's leftovers in a little white cardboard box.